When you think of summer in New Hampshire, what's the first thing that comes to mind? For many, its Hampton Beach! Since the late 1800s, people have flocked to this popular beachside community, known for its broad sandy beaches, a lively boardwalk with vintage arcades, fried food stands, and boutique hotels. Voted one of Americas Happiest Seaside Towns by Coastal Living, Hampton Beach is more than just a vacation destination.
Hampton Beach is a village district and beach resort in the town of Hampton, bordering the Atlantic Ocean. Spanning just over 1.3 miles with 700 feet of broad sandy beach, Hampton Beach was recently rated one of the top 3 cleanest beaches and top 10 values for resorts in America.
The iconic Casino Ballroom has been hosting summer concerts since 1899. At one time, the Casino boasted the largest dance floor in New England...20,000 people visited the massive space weekly to see Bing Crosby, Duke Ellington, and other notable musicians. Today, the Casino hosts 70+ concerts during the season, featuring greats like Jay Leno, KC & the Sunshine Band, Foreigner and Melissa Etheridge.
Tate & Foss Sotheby's International Realty Sales Associate Sharon Parker says:
When I was a kid, my family used to visit Hampton Beach during the summer. Now that I live in the area, I enjoy the beach and all the activities and events especially the Seafood Festival and sand sculptures. There's truly something for everyone.
Sea Shell Stage Nightly Shows: Two nightly shows featuring music through the decades and Country Thursdays! Go with your family and let the children dance or grab your partner and sway under the stars.
Movies on the Beach: Free admission for all in July and August. Bring a blanket, chairs, and some snacks. All movies are family-friendly!
Weekly Fireworks: Spend the day on the beach and hang around for the fireworks held every Wednesday evening July through August.
Sand Sculpture Competition: Watch world-famous master sculptors compete for the grand prize in mid-June. The skill to make these bigger-than-life works of art requires a steady hand and lots of patience. The end results are breathtaking.
Seafood Festival: The annual Seafood Festival takes place at the beautifully renovated Ocean Front Pavilion and Sea Shell Stage. It features delicious seafood, crafts, live entertainment, fireworks, a beer tent, and a lobster eating contest!
South Beach at Hampton Beach State Park: At the entrance to Hampton Harbor (and the southeasternmost tip of New Hampshire!), you'll find South Beach Pavilion, beautiful sand dunes, seagrass, and miles of sandy beach.
Lifestyle in the area varies by the season. Energy is high in the summertime when the population swells from 2,300 to as much as 200,000 with beachgoers, surfers and family day-trippers. It's great for people-watching, sunbathing, and walking the boardwalk while enjoying Blinks FryDoe (a favorite since 1973!). Just after Labor Day and the Annual Seafood Festival, the crowds dwindle, but the beautiful stretches of beach invite long walks and often warm weather and sunshine into October. For some, a lifetime at the beach is the ultimate luxury.
Check out our Hampton Community Guide for more details!
Tate & Foss Sotheby's International Realty Sales Associate Robyne Harrison says:
Growing up in Hampton, I have seen many wonderful changes at Hampton Beach. I love the retention of the aesthetics, as seen in the updated boardwalk and Sea Shell Pavilion, reflections of an era gone by. I see the value in the renovated hotels, new restaurants, cottages and newly-built condominiums which my clients appreciate!
Notable Sales + Statistics
Over the last 3 years, approximately 600 residential properties have sold on and near the beaches of Hampton, with an average price of $348,238. Values have seen recent appreciation of over 5% each year, making it an excellent time to invest in rental property or a second home. This is consistent with other towns on the New Hampshire Seacoast which have experienced steady growth since 2015.
Tate & Foss Sotheby's International Realty marketed and sold 968 Ocean Boulevard in the Plaice Cove area (pictured below) at $1,375,000.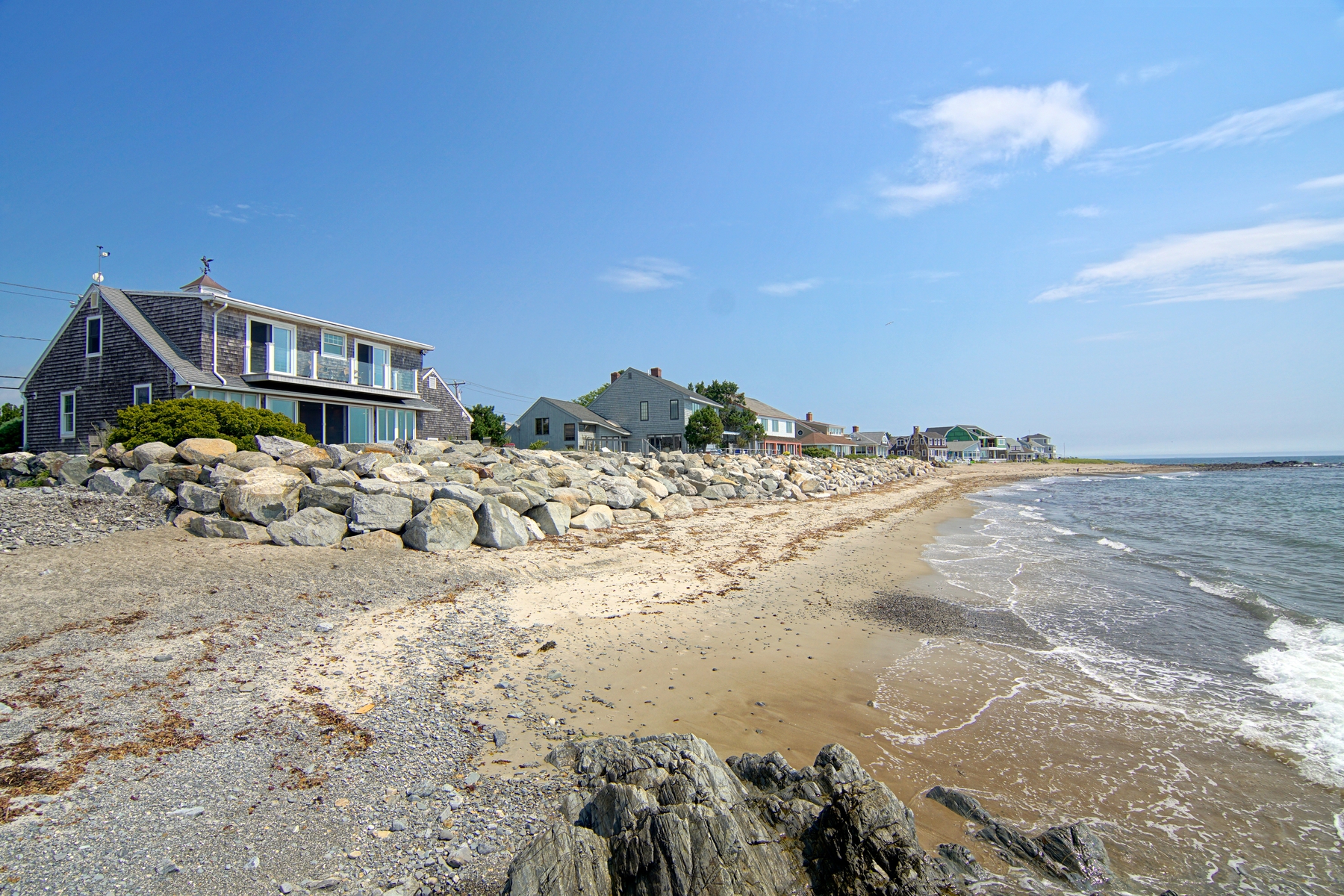 Curious to know what's currently For Sale throughout Hampton NH? Click here. For more information about living near Hampton Beach or anywhere along the NH Seacoast, please Contact a member of our real estate sales team. At Tate & Foss Sotheby's International Realty, we pride ourselves on having in-depth knowledge of our market area. We'd like to share that insight with you.